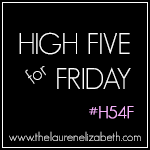 I'm linking up with Lauren from thelaurenelizabeth.com for High Five for Friday! 
TGIF! TGIF! TGIF!
Can you tell that I am excited it's Friday?! Having a normal week after having a very short week thanks to Thanksgiving (no pun intended haha) was rough!  However, there are only 2 more weeks until Christmas break so I can't complain too much.
1. Thanksgiving definitely spoiled me.  It was so much fun to have a few days off and spend time with my family, especially my sister.  It seems in recent months that our schedules have been very opposite, so we have gotten to see much of each other.  However, I think we spent more time together in just a couple of days last week than we have in nearly 3 months.  It was awesome.  I texted her Tuesday and told her I was having withdrawals.
2. I also have been getting to see my brother more regularly.  However, he refuses to take a picture with me, so I had my hubby help me snap this beauty…
3. My hubby and I ventured out for Black Friday shopping (Note: Black FRIDAY… that means we went shopping on FRIDAY, not Thursday.  I refuse to go out on Thursday.  Maybe I'll post my rant about that sometime soon lol).  Anyway, we headed out about 1am after 3 Dr. Peppers and 2 cups of coffee.  It was totally worth waiting until that late/early/however you want to look at it! There was NO ONE out.  We went to Target, Kohl's, Best Buy, and LOFT, and all 4 places still had everything in stock that I was looking for and there were no lines.  I actually felt bad for the workers because they were just standing around, clearly bored and tired.  Having worked in retail and on Black Friday for several years, I personally would rather it be busy so the time went by faster.  It was great for us though!
4. My new glasses came in this week.  I normally wear contacts, but have really been wanting a good pair of glasses so I could give my eyes a break (if you wear contacts, you understand this).  The pair I had were about 5 years old though and the prescription was off, so I only wore them at night.  I picked these Kate Spade glasses out a couple of weeks ago at my annual exam and they finally came in! I absolutely love them!
5. I got 3 strikes in a row last night at bowling.  My husband's last day at his current job is today, so his coworkers and boss took him out for a "going away" party of sorts, and they let me tag along.  I am normally a horrible bowler, so I had to take a picture!  It was a fun way to send goodbye.  I know my husband is going to miss them.  He's worked with them for almost 5 years, but we are both very excited about his new opportunity!
How has your week been?