Yesterday, my best friend texted me and said she needed help finding a good foundation and asked if I would be up for a trip to Ulta this weekend while she is in town.
First of all, you never need to ask if I would be up for a trip to Ulta [really, the question should be whether Jeff will be ok with me going hahaha]!
Second, I always find it funny when people ask me for makeup advice because I really don't feel like I am an expert at all.  I am just a marketer's dream because any time I see an ad for something new, I am usually pretty willing to try it, especially when it comes to foundation.
I have such much red in my skin that foundation is pretty much a requirement for me on a daily basis.  Even if I am going to the beach or running to the grocery store, I will usually throw on a little foundation to even out my skin tone.
So since I had foundation on my brain after that, I thought I'd go ahead and share my favorites on here.  I'm more of a liquid foundation fan, so I'm including the two I like the best currently, but I am throwing in one powder foundation for those that prefer that option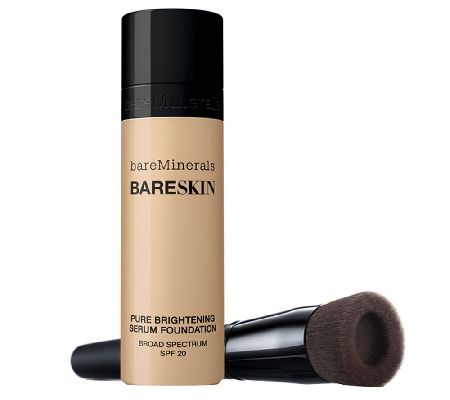 ONE // bareMinerals bareSkin Pure Brightening Serum Foundation
This is the one I am currently wearing every day.  I seriously love this stuff! It is SO incredibly light on your skin, it really does not feel like you are wearing any foundation.  And it only takes a couple of drops to cover my entire face and get rid of the redness, so I think one bottle will last a long time.  It also doesn't have any oil, parabens, or fragrance, is hypo-allergenic, and has SPF 20!
They really recommend you get the bareMinerals Perfecting Face Brush to apply the foundation with.  I was a little skeptical about this as I didn't really understand why my normal foundation brush wouldn't work just as well with it, but I asked the associate at Ulta about it. She actually applied the foundation to half of my face with a normal brush, and the other half with the Perfecting Face Brush, and the difference it made on how the foundation set on my skin was huge!  So I decided to go ahead and get the brush along with the foundation [it helped that I had a coupon for $10 off a $50 bareMinerals purchase too--- gotta love that!].
TWO // Philosophy Hope in a Jar Foundation
Up until I tried the bareMinerals foundation, I had been using this Philosophy foundation, but was running out of it and figured I would try that one out.  Otherwise I had no intentions of switching foundation.  I use Philosophy's skincare line and love it, so when they came out with a foundation, I had to try this.
The Philosophy Hope in a Jar Foundation is a light-to-medium foundation and I found that I needed 2 full coats of it to cover the redness in my face. However, it feels great on my skin and if you really just want a subtle tint versus full-coverage, I would suggest this one.  Plus you don't need a fancy brush for it!
THREE // Tarte Amazonian Clay Full Coverage Airbrush Foundation
If you are looking for a powder foundation that actually provides some coverage, I would highly recommend this one.  I was very skeptical about it as I have not been able to find a powder foundation that really does cover up my redness, but I decided to give it a try anyway.  It did not disappoint! This is another one that they have a recommended brush for [the Airbuki Bamboo Powder Foundation Brush], but I feel like an kabuki brush could work for this one.
The other great thing about the Tarte Amazonian Clay foundation is that it is free of parabens, oil, and gluten.  That was the main reason I originally picked this one up, but I really missed my liquid foundation.
When choosing any of these foundations, I would recommend you ask one of the associates to help you pick out the right color.  I know at Ulta, they will test any of their foundations out on your face so that you can make sure it is the right color and that it blends right on your skin. I'm sure they would do the same thing at Sephora or any other similar store, I just primarily shop at Ulta since we don't have a Sephora in town yet [and Ulta always has coupons!].
Have you tried any of these foundations or do you have another one that you prefer?