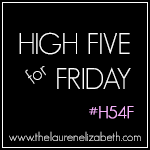 Hey y'all! I'm linking up with Lauren at www.thelaurenelizabeth.com for High Five for Friday! And I sure am glad it is Friday! Here is what I've been up to this week:
1. Last Friday night, the ladies at my church had a retreat at Fort Caswell. It was a wonderful time of fellowship and worship.
2. Saturday night was "date night." We went to dinner and then saw Gravity in IMAX 3D. It was the first movie we've seen since we got an IMAX here in Wilmington, and I don't usually like 3D (it gives me a headache). But this movie was perfect for it! The movie itself was really good too!
3. On Sunday, my family had lunch together and had a planning meeting for our trip to Disney World… My dad takes trip planning very seriously lol.
4. I am hooked on puzzles. At the ladies' retreat, several of us worked on a puzzle, and I got hooked. Mom, my sister, and I started one on Sunday, which my mom ended up finishing that night, and now I am working on my own (1000 pieces… yeah, I might be busy for a few days…)
5. We have a new "neighbor." This kitty has been showing up on our doorstop every so often this week and the other night, Linux got a glimpse of him and just stared out the window for about half an hour watching him. It was hilarious because the cat wasn't even remotely worried about Linux, but Linux was whining and fussing (I'm pretty sure he wanted to play with the cat haha!)
So, what have you been up this week?