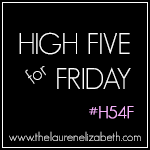 I'm linking up with Lauren at thelaurenelizabeth.com for High Five for Friday.
Well, Friday is almost over already, but hey, better late than never, right?!  So here is what I've been up to on this very eventful week!
1) Jeff and I had a fun time celebrating our 5th anniversary this past weekend.  We went to The Little Dipper, a local fondue place, then we went to see "The Way, Way Back."  It was really good! I laughed, I cried, I wanted to punch Steve Carell in the face haha… he did such a good job portraying a jerk.  Anyway, here are some pics from our date:
2) This past weekend was also North Carolina's tax-free shopping weekend, so I took full advantage of it.  I went to LOFT on Friday and got some great deals, including 3 pairs of pants for $20 each.  On Saturday, we met Jeff's mom and Kohl's and got Jeff some much-needed work clothes.  Then Jeff's mom and I got manicures and pedicures.  I finally got her to try a bold color: OPI's Cajun Shrimp.
3) On Sunday, I got to enjoy some sun and time at the pool with some friends.  Even though we had to run in the house thanks to a random thunderstorm, we still had a good time and got some much needed Vitamin D.
4) My husband has been growing some pepper and tomato plants in our back "yard" (by that I mean, our patio).  Several of the peppers have ripened.  It feels great to have grown something ourselves!
5) An old friend of mine got married yesterday.  Her sister threw a linger shower Tuesday, which was a lot of fun! And I'm pretty sure she is the Pinterest Princess— her decorations are amazing!
The wedding was held at St. Thomas Preservation Hall and it was so incredibly beautiful!  The bride and groom were just beaming with love.  It was also great to catch up with a lot of friends from high school!
Hope you have had been able to spend some quality time with friends this week, too!  I am already sad that this week is over and it might be a while before I see all of these people again.