Goodness, today's Blogmas topic is a tough one! There are SO many good holiday movies.
But when it comes down to it, there are two that are pretty much neck-and-neck for the top spot.
The first is
Elf
, which is obviously very Christmasy. Will Ferrell does such a great job in this movie and there are so many great lines in it!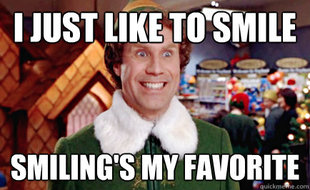 But as much as I love Elf, my absolute favorite holiday movie is
When Harry Met Sally
.
Now I know this isn't a traditional "Christmas" movie, but so much of it centers around the holidays, and New Year's in particular, that I think it counts.
Actually looking at all these memes makes me want to go watch it right now. Guess I know what I'll be doing tonight!
What is your favorite holiday/Christmas movie?