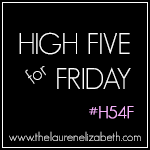 Hey y'all! (Yep, I said y'all.)  Sorry I haven't posted much this week, but I am linking up with Lauren at thelaurenelizabeth.com for H54F!  Here is what I have been up to this week!
1.  On Saturday night, I babysat this cutie and painted her toenails.  I also did my nails in the same color, and she loved that we matched!  This girl has more personality than she  knows what to do with lol!
2.  On Sunday night, my hubby and I went to a cookout with some of our very good friends (one family is the same one I babysat for the night before).  It was so much fun to eat, play ladder golf, then chill around the fire after the kiddos had gone to bed.  My hubby and I are the only ones in that group that don't have kids, but I love getting to play and love on their cuties!
3.  On Memorial Day, we had some friends over to hang out at our neighborhood pool and a cookout at our place.  Of course, I managed to not take any pictures, though I doubt y'all mind not being subjected to pictures of me in a bathing suit.  Anyway, it was fun to hang out with some other couples that don't have kids (we've nicknamed ourselves "the barren couples" haha).  That night, Jeff and I watched Act of Valor.  It was a perfect way to be reminded of what our soldiers do and sacrifice on a daily basis to keep our country free.
4.  Tonight, I am having a girls' night in at my house! Wine and friends, need I say more?!
5.  Tomorrow, we are planning to attend the funeral for my hubby's childhood pastor, who also married us.  Though it is a sad time, it is also a time for rejoicing as we know he is in heaven celebrating with his Jesus!
How has your week been?